Engraved Cover Plates for State Building
Are you bidding on a state building job? 
We specialize in engraved cover plates for state building and can take A LOT of the pain away associated with bidding on any kind of government building job.  We are quite familiar with all brands, types of cover plates, and their surfaces. EngravedSwitchplatesNow is a powerful team in the USA that consistently provides high-quality, professional services within your set time constraints. We have over 130 years in the business, click here to learn more about our history. We provide electricians, construction contractors, government contractors, etc. with engraved wall plates and various other engraving & laser-cutting services.
Permanently etched signs, tags, and labels are also in our wheelhouse. Our engravers have a wide variety of cutting-edge, high-tech laser equipment & other technology at their disposal. Therefore, we can laser mark & cut virtually any material including stainless steel, aluminum, and acrylic. Forget dealing with temporary attempts to label hospital products. Get it done permanently – and done well. We also offer paint filling services if you want a stainless steel plate engraved with red letters, for example.
We provide superior customer service and are happy to help with whatever you may need or have questions about in regards to engraved cover plates for state building. You can email us directly or call us at (800) 482-1553.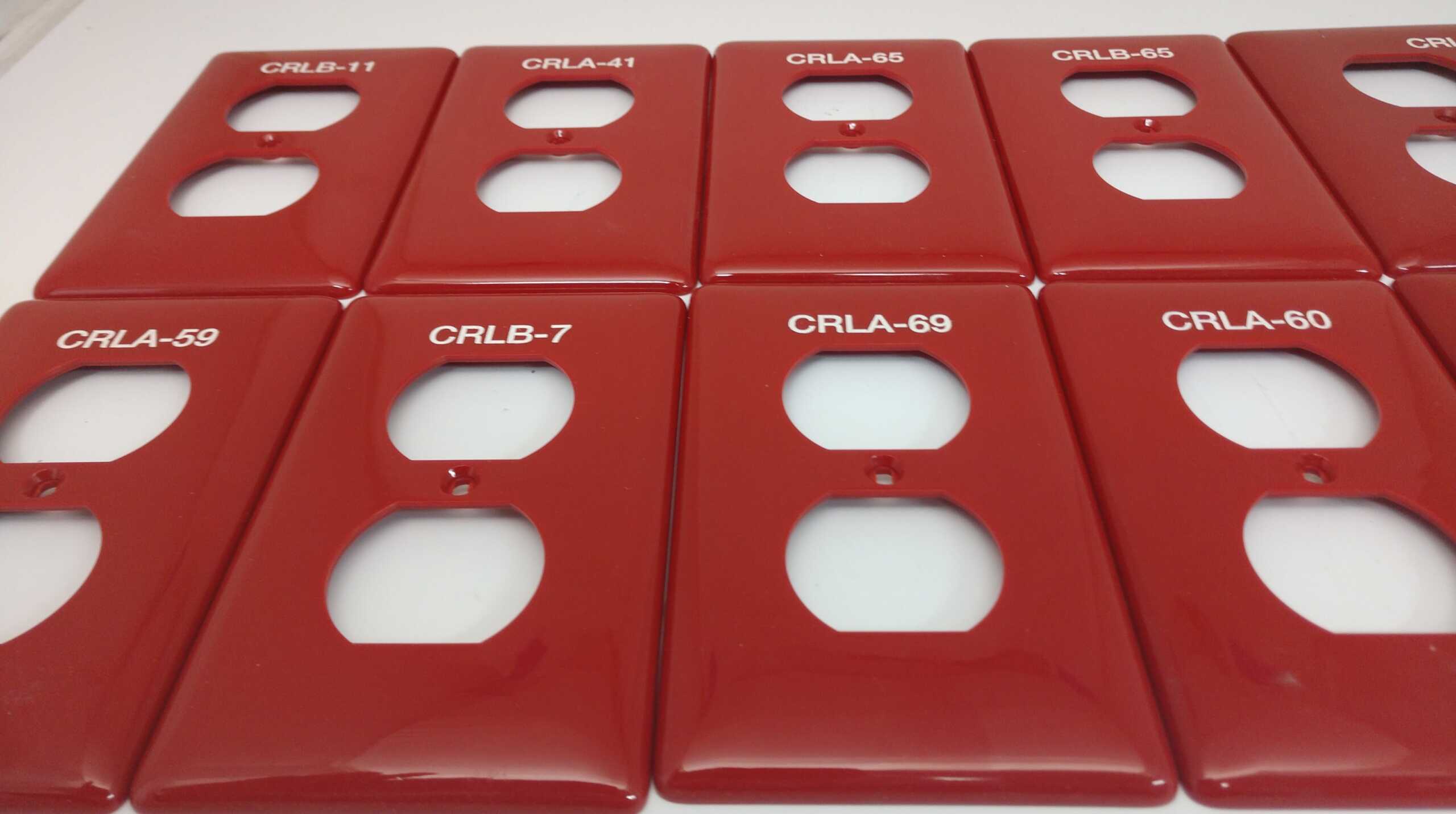 We can sort your data, process it and make it easier on you. We accept project submissions in all forms, from DXF to PDF or even handwritten specifications and designs. When it comes to engraved wall plates, EngravedSwitchplatesNow is the obvious choice for no hassle, efficient project turnaround. You are free to send us the hospital products yourself or we can handle obtaining them for you! We are willing to consider any and all special requests and deadlines. Our laser engravers get to sleep at night knowing that you'll be pleasantly surprised once your package safely arrives to your door.
We unpack your covers and efficiently bulk-pack it for you, in any order. Do you want it done by Floor Number or Suite? We can arrange your shipment in any order, by floor or room number. We can accommodate any specifications required for your project. When it comes to a company that you can rely on for customized, prompt, and pristine results, it's EngravedSwitchplatesNow!
Engraved Cover Plates for State Building
Got A Project? 
– OR –
Call Us! (800) 482-1553
Engrave Products Any Way You Need! Check out our parent company, LaserEngravingPros.com!