Stop Using Markers; Start Engraving Your Switch Plate Covers
Engraving switch plate covers is hands-down the best way to permanently mark your plates. Because you don't want someone in search of an outlet unplugging vital equipment! Sure, you could scrawl on them with a marker, but if you want the job to look permanent and professional, engraving switchplates is the only way to go. It's cost-effective, quick and easy to do! Don't get caught looking like these guys! Would you believe this is a government building in Washington, D.C.? It's a mess. Some of the numbers are even rubbing off! Once you start engraving switchplates in your building, that's never a problem you'll have again. When you mark something with a laser, it's marked forever. No more squinting at handwriting, trying to reapply faded labels, or wondering what goes where! They are all clearly labeled just where you need it most.
It's always important to have your client, project manager, or inspector approve a sample switch plate before we engrave and paint-fill. It's crucial to address character height, font, spacing, and placement on each cover. Fill out a sample request form and let us get to work. We need to know what kind of cover, as well as the color. We need the data to be engraved, your shipping address, and you can let us do the rest!
You can also call Aaron 24/7 – If he doesn't answer shoot him a text.
804-525-0159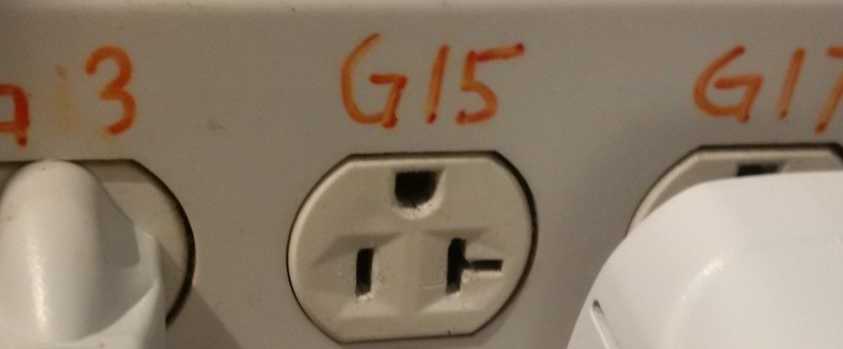 All you need to do is send us your data in an Excel document, either by email or through the RFQ form below. After that, we're ready to start immediately. Next, we use high end processing software to import the data directly into our engraving systems. This cuts out any possibility of transcription errors, guaranteeing you'll be satisfied with the results. As a confirmation, we'll always send a proof before launching into production. We're capable of engraving switch plate covers for just about anything you can imagine!
If it accepts plugs in the wall, we'll customize it for you.
You send us the specs, and we'll turn that into switchplates shipped directly to your work. If you've already got the plates and you just need our expertise in engraving, that's not a problem either! Certainly we'll take your custom plates, laser-engrave them and promptly ship them back to you. Fill out the form below so we can get started engraving switch plate covers for you today!
Engraving Switch Plate Covers Stops You From Fumbling With Cords!
Got A Project?
– OR –
Call Us! – 800.482.1553