We're the
Masters
of
Switchplate Cover

Engraving &
Paint-Filling!
Seriously, we're the best at what we do! Are you in need of an engraved switchplate that will withstand busy medical centers, federal buildings, or other lively professional environments? At Laser Engraving Pros, we help business owners looking to brand their workspace with professional-looking switchplate covers, hospitals in need of wall plates for identifying hazardous materials quickly and precisely, federal buildings and government offices that require switchplate covers with clear labeling for delicate projects, and construction contractors looking for a way to customize cover plates with permanent marks. There's no need to look any further for an experienced team of passionate engravers for your project, no matter what it is! At Laser Engraving Pros, we understand that correct labeling can be a matter of safety, and we take our work very seriously. We specialize in engraving and paint-filling switch plates for hospitals and government buildings, but we can engrave (and paint-fill) any switchplate! We hold ourselves to a high standard and produce high-quality engraved metal plates that feature both text and visuals with the added benefit of a smooth, scratch-resistant finish. But don't fret! We also Engrave and Paint-fill Plastic Switch Plate Covers.
Our unique (and secret!)

Switchplate

Paint-Filling process leverages cutting-edge technology, skilled artisanship, and loads of passion;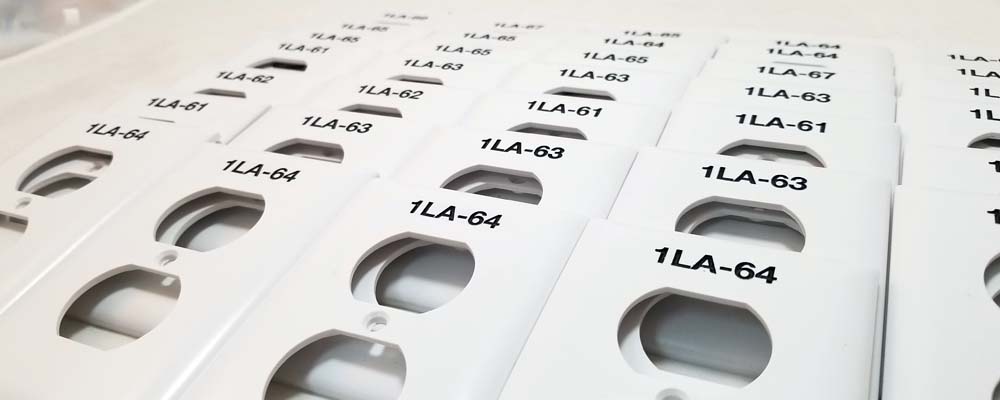 Everything needed to make stunningly beautiful engraved cover plates with expert paint filling that lasts for decades! Our experienced team has the state-of-the-art equipment, intense dedication, and many years of experience necessary to ensure a pristine and precise final product while offering competitive pricing and fast turnaround times. When I say fast, I mean fast! Our average turnaround time for engraved and paint-filled cover plates is 24 hours to seven days, depending on quantity of plates. Do you need 1000 covers done in a week? No problem, but we must move fast! We often work with individuals and businesses who request a "rush order." If you need one of these "rush orders," we will do anything physically possible in the natural world to complete your switchplate order in mere hours- as long as the laws of the universe allow us to, that is.
We will do our best to accommodate you and meet your needs! So, if you're looking for an unbeatable level of quality, unlimited customization options, and durability for your switchplate—we've got you covered! Plus, not only do we guarantee top-quality products, but our customer service is on point!
Let us assist you today and make your vision a reality! Our Laser Engraving and Paint-Filling Services are the perfect solution to your custom switchplate cover needs!
You can reach us 24/7:

Get a Sample of Your Customized Switch Plate Covers: Sample Request Form
Get a Quote on Your Project Now!  RFQ Form
Call Us Toll-Free: (800) 482-1553 Call Us Local: (804) 234-4990
If You Need Help After Hours, Call or Text Aaron's Cell 24/7: (804) 525-0159
Email Us: info@laserengravingpros.com
Office Hours: Monday – Friday 9:30 AM – 4:30 PM
Request a Sample: Fill Out This Simple Request Form
Get a Quote: Fill Out This Quick RFQ Form
– OR –